Sneak Peek on Robust Enterprise Application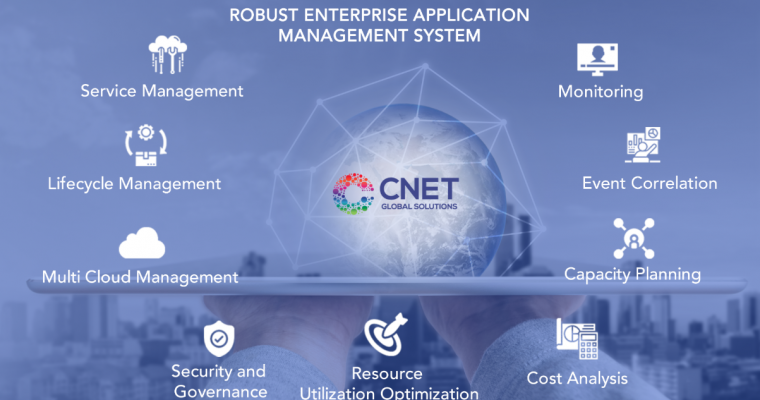 "Robust Enterprise Application Management System can help transform your business to the next level with enhanced speed, and efficiency, cost predictability, and monitoring operations."
Enterprise preparing for a new application is a smart move but it's equally important to ensure existing applications are up to date and maintained appropriately. Having a robust Application Management System helps you manage the simple/complex application landscapes which would revolve around many vital resources to keep the workflow go hand-in-hand over increasing complexities throughout the process. Hence, Application Migration System (AMS) is now beyond just back-office support; and more towards transforming the business to the next level with enhanced speed, and efficiency, cost predictability, and monitoring operations.   
Considering the rapid transformation in the IT industry, we can say that enterprises are not going to restrict their advancement into one domain, they will keep plunge into various new domains, partner with different organizations; work for numerous clients, and develop diverse applications as-is. Thus an enterprise needs to go beyond the traditional AMS model by paving the importance of business optimization, innovation, upholding the in-time metrics, support, and Service Level Arrangement.
"By

2025

, the Application Management services market is expected to surpass

85 billion
mark."
In today's digital transformation IT ecosystem, its rare organizations spending time in formulating in-house application maintenance team. Also, we've seen many organizations complaining about lack of resources available; and it could be due to two reasons. First, the cost involved in maintaining existing applications, critical issues surfaced after working hours. Second, the pileup of issues that are carry forwarded from the previous day, long-standing issues, repeated errors, time involved in fixing bugs, analysis of errors, involvement of numerous resources & efforts, bitter feedback from users and customers.
In order to handle such instances; a pool of skilled resources should always be available on the floor; which helps to neutralize the risk involved in each phase of the workflow. These way enterprises can monitor the applications constantly and enhance the overall performance of the business.
In general, Application Management Services include management, monitoring, bug-fixing, and optimizing each task in the workflow. When enterprise partners with Application Management service provider; they expect the comprehensive solutions to keep up the workflow up to date.
How Application Management Service Providers can be Helpful for your Organization?
Provides reliable and trained resources


Manage software releases and patches

Monitor application regularly

Ensure thorough process management

Work as per SLAs and metrics

Complete backup of the application


Provides total recovery of application post disasters and malware attack
Collaborating with CNET's Application Management services; organizations can overcome the hassle of recruiting more IT resources and spend less on recruiting and IT infrastructure.
Benefits
 

Increase in ROI

Easy to overcome user dissatisfaction

Reduce cost on maintaining existing applications

 

Enhancement in the development process and innovation

 

Reduced delivery cost

Improved business opportunities

Utilizing skilled resources

 

Opportunities to implement industry best practices

Strengthen the existing client's network
Application Management service provider will employ enough IT resources; train them regularly with new industry standards, approaches, procedures, skills, and trends. In other words, IT resources will include a range of employees from developers, testers, database analysts, and programs to handle the Application Management faultlessly.
Therefore, Application Management services are not just useful to large companies but also help small companies to standardize their IT environment. Whereas small organizations need more support to grow and retain customers for better business opportunities, thus partnering with Application Management service provider would be a great help for them. On the other hand, for large organizations, it helps to save time and improve new ideas implementation.
In recent times, it is observed that outsourcing Application Management service is turning out to be a regular practice for enterprises. However, it's imperative to pick the right service provider to ensure your application management system is in safe hands. CNET Global Solutions (CNET) is one such prolific service provider, brings proven experience in application development, maintenance, and transformation, and help clients to excel in their digital journey with agility and great flexibility.
CNET's Expertise in Application Management Services Includes:
Application Development

Release Management

Kubernetes

Docker Swarm Management


Project Management
CNET has the proficiency to provide Application Management services in ServiceNow, Salesforce, Microsoft (.NET and SQLServer), and Java Platforms.  We are experts in CI/CD, Automated Testing, Systems Management (HW/SW) services as a part of the Release and Project Management services.   We also support Docker and LXC Containers to extend Kubernetes and Docker Swarm Management services. We provide tailor-made offers, packages, and proposals based on your business size, and support enterprises of all classes on the same lines of services.
We work relentlessly and prioritize Application Management service upgradation persistently to meet the current day IT industry standards and retain customers' trust for the better tomorrow. Collaborate with CNET's skilled team to make your Application Management more streamlined and less-hassle.