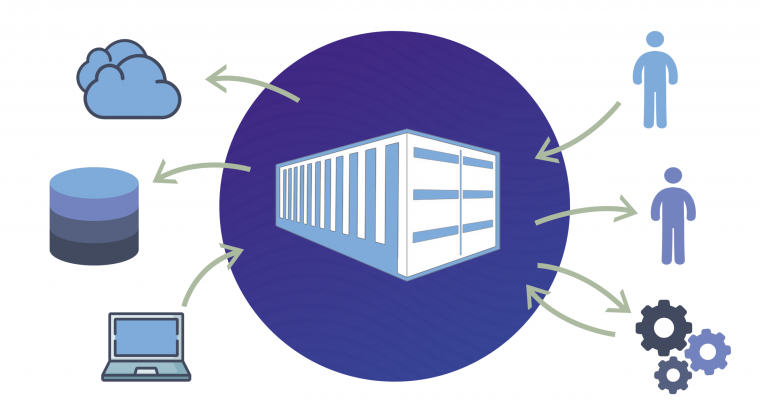 Your success relies on your next move. Application containerization is the lifeblood for enterprises amid technological advancement in digital transformation and rapid cloud adoption.
Enterprise-level application containerization includes several elements- microservices over traditional one, monolithic legacy applications, persistent data storage, and automation of storage management. As enterprises start embracing containerization; the ecosystem of tools surrounding the technology evolves and opens the door for new breeze, new technological advancements.
The predominance of digital transformation is evolving day-to-day with a pace of advancement in public clouds, microservices, and DevOps practices. The challenge for big players in the industry is to be able to match this pace of rapidity and keep up with technological advancements in real-time.
The recent development in the IT sector has a clear intent: Think beyond digital transformation and adopt a "container-first" strategy for your existing/new applications. This approach unlocks many hidden secrets to tackle the real-world challenges of the businesses. On the other hand, adopting containerization also helps modern applications to respond quickly to changing market needs.
Other benefits:
Simpler and frequent release cycles
Improved resiliency
Compatibility to leverage cloud-based services
The outcome of these benefits can be utilized in business areas:
To accelerate new application development process and strategies (which are market-ready)
Streamlining existing applications portfolio and upgrade them with new features and capabilities
However, modern applications are complex, highly distributed and modular, which force the owners to upgrade frequently. In the current scenario, these applications include many elements such as standardized UI and backend languages, databases, multiple cloud services, and serverless functions in addition. Midst of the complexity, many businesses are attempting to incorporate hybrid and multi-cloud operating models to reduce spending and gain new access to the new cloud-based services.
In order to minimize these critical challenges, enterprises ought to have an end-to-end solution to build, deploy, and deliver modern applications faster, and effectively across any environment.
Container strategy has been a prominent part of an enterprise's cloud transformation journey, yet still many fail to implement it without intricacy. When you have many applications and servers in use, the need for right Container Management Functions to manage virtual environments and automated deployment tools comes into place.
Evaluating and planning containerization goals for the next few months or years can help you settle on a firm decision. Containers use the common OS for all applications but still gives the individualistic experience as they are with VM's. Maybe because they are lower overhead than VM's. This enhances 5 to 10 times improvement in density in contrast to the above strategy and facilitates simple application deployment, redeployment model, and reduction in operations costs.
Container Strategy:
Using technologies like clustering, scheduling, and orchestration methodologies, enterprises can evaluate the scaling and resilience ability of the applications that are containerized. At the same time, integrating containers with existing infrastructure is equally important to get more out of containers. This process involves many basic elements such as configuration management tools, storage, networks, hypervisor and hyperscale clouds, and server automation. We have listed down few important aspects for integrating containers for your existing enterprise-level IT environment.
Integration fine-points for containers:
"The rapidity in componentized and multipiece applications (technology advancement) has made modern application deployment and maintenance complex. Containerization can fix this problem by extracting the application component from the OS."
Are you in search of ways to streamline application containerization to keep up with the technological advancements?
We at CNET do it with proficiency, skills, required tools, assets, and solutions that help you match up the pace of technological advancement with leading Kubernetes-based container service. Our team understands your business and workflow, then comes up with the solutions to abstract complex processes associated with the application containerization that are lagging due to the rapid adoption of new technologies. This way CNET provides enterprise-level containers application solutions that give you access to an open, faster, and resilient way to containerize your business applications with a great comfort level and convenience. Contact us to know more about our services.