Technology has the potential to change everything. By connecting the ServiceNow® platform with CNET Global Solutions' knowledge in service management process design, integration, and organizational change, we are opening up new possibilities for IT to empower businesses and their customers.
You may be just getting started on your ITSM (IT Service Management) journey, or moving toward next generation ITSM technology. Regardless of where you are now, you need to position your IT organization to drive business results. Those in the process of adopting ITSM require proven, practical experience and leadership to accelerate their time to maturity while avoiding common pitfalls. Those optimizing existing ITSM capabilities look for insights into the latest technology platforms and experience on seamless platform transition. 
CNET Global Solutions supports its clients' ITSM needs through proven, repeatable methodologies and reference models, spanning strategy, design, build, implement, and operate. Its capabilities extend far beyond core ITIL/ITSM frameworks, delivering additional breadth and depth through the following capabilities:
Transform Your ITSM Model
CNET Global Solutions can help you deliver enterprise-wide, cross-functional services that support your business strategy, and manage and optimize your services portfolio. Change in service delivery model can cause significant disruption. We can help you with your organization design and development, behavioral change management, workforce optimization, and other strategic issues.
ITSM Compliance Assessment 
IT Service Management Assessment represents a strategic first step in achieving ITSM best practices implementation.. Our assessment solution is designed to deliver objective and fact-based evidence to position your IT organization's current practices within the framework of ITSM/IT compliance.  We identify the steps, efforts and action plan required to attain repeatable, sustained and economical IT service excellence and aligned IT compliance. 
There's a new normal in the asset management space. Increased transaction volumes. More demanding investors and customers. Expansion into new products and geographies. Escalating pressures on governance, transparency and fees. A more challenging regulatory environment across multiple jurisdictions. And greater focus on cost-efficiency. 
Today's asset management businesses must navigate an ever-more-complex marketplace to position themselves to their stakeholders as both effective and efficient stewards of their capital and brands. To succeed, you must not only anticipate what lies ahead, but also find ways to adapt your organization to a changing capital allocation model, increased reliance on technology and data analytics, and new approaches to customer engagement.
CNET Global' Solutions' Asset Management professionals can help you succeed in this new environment. We marry global reach with local enablement to ensure you have the right experience and skill sets wherever you want to operate. Our industry focus enables us to ask the right questions and align our resources with your needs. And with our broad spectrum of service offerings, including industry-leading technology, we can serve these needs throughout the organization as they evolve.
Using our Matilda Cloud Solutions platform, we can assist you with Data Center asset management through on-boarding full racks, providing input for individual assets, and software and license tracking. Using our GUI interface to the CMDB you will have an interactive view of the floor and rack elevations, along with a relationship topology between the hardware and software assets.   
CNET Global Solutions can help you transform IT Operations Management using 
ServiceNow ServiceWatch™.  This software suite is a complete and integrated services operations solution that builds seamlessly on your existing ITSM investment – including CMDB, Incident and Problem Management, Change Management and Service Catalog.
Problems You May Face
Manual discovery for business services and assets
Business services and IT infrastructure misaligned
Manual process to detect and diagnose services issues
No self-service model causes wasted time by IT staff
Weak governance model that allows drift in process and tools
Risky planned outages for service upgrades
Our Solution Offerings
Automate discovery of business services/IT infrastructure
Bridge the gap between services and infrastructure
Automate detection/diagnosis across IT systems
Automatic provisioning/configuring of requested services
Better governance—ensure a process that can be audited
Reduce risks by seeing impact ahead of time
 HR Transformation focuses on improving the efficiency and effectiveness of the HR function by aligning HR services with the needs of the business to deliver measurable business value. Our solutions create greater business value from HR through integrated transformation services that extend from strategy through execution. Our holistic methodology incorporates all the necessary people, process, technology, service delivery, and information components, including market-leading practices and solutions.
ENHANCE YOUR HR TRANSFORMATION WITH SERVICE MANAGEMENT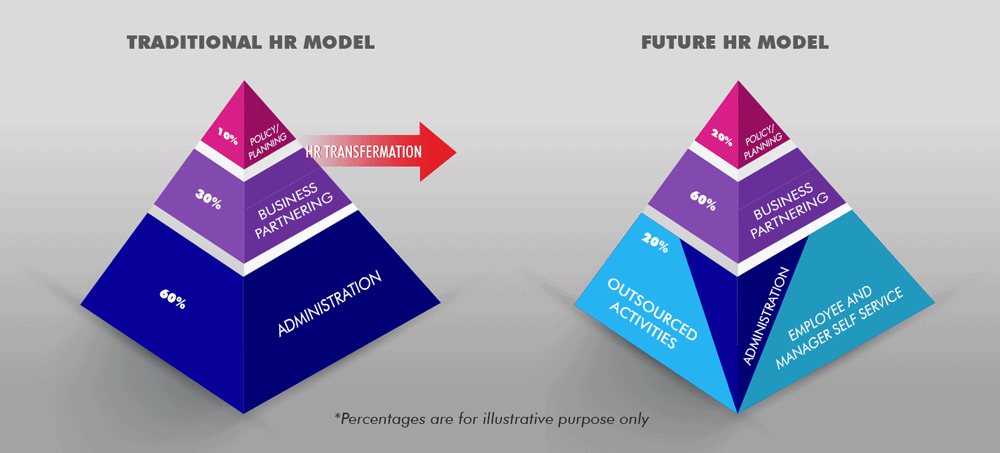 Many organizations are turning to service management to improve service quality and deliver a wide range of services in important areas such as HR. As a process that information technology departments commonly use, service management can also provide a consistent, scalable and automated way to deliver more HR products and services to employees. ServiceNow HR Service Management is a cloud based software platform that streamlines and automates how HR interacts with its constituents.